Combat Skyspot: The use of ground-based automatic tracking radar systems for ground-directed bombing.
This document is taken from the CHECO report of 9 August 1967.
The Need

Migratory rains of Vietnam, low-hanging cloud cover, and the Viet Cong's exploitation of the hours of darkness have been a great hindrance to the Air Force role of harassment, interdiction, and close air support of ground troops. On clear nights, or when cloud cover is not a factor, flare ships in conjunction with fighters or gunships, can harass and interdict the enemy, or provide close air support to the friendly forces in contact.
When adverse weather moves in, with a ceiling of 400-500 feet, the Forward Air Controller (FAC), flying in an O-1 aircraft, can at times, drop down through a cloud deck and maintain visual contact with the ground. The fighter pilot, flying five times as fast and with one fourth the maneuverability, has a definite problem with low ceilings and poor visibility. Under conditions such as these, dive bombing is limited, and even shallow, angle-type deliveries, such as strafing, may not offer completely satisfactory results.
The need to support Special Forces Camps under attack during periods of inclement weather was forcibly brought out during the battle and subsequent loss of A Shau. Located in a valley in the northern section of South Vietnam, A Shau Special Forces Camp came under heavy Viet Cong attack early in the morning of 9 March 1966. [Note: Maj. Bernie Fisher was awarded the Medal of Honor for action at A Shau as an A-1E Skyraider pilot - his aircraft is on display at the USAF Museum - Ed.]
At that time, the weather -- broken to overcast -- with 300-500 foot indefinite ceiling, provided ideal working conditions for the enemy, since it prevented effective air strikes. The few air strikes managing to transit below the cloud cover were so restricted in their delivery patterns as to be ineffectual in repellig the overwhelming numbers of Communist troops.
The loss of A Shau emphasized the need for a weapons system which could support ground forces at all times. This need pointed especially to the importance of an all-weather strike capability -- during the day or night, and in any kind of weather.
The Solution

The Strategic Air Command, to evaluate the proficiency of their air crews, had been using a ground-based radar/computer unit designated MSQ-35. This system, called Radar Bomb Scoring or RBS, could predict the exact point of impact of a simulated bomb drop.
Using this highly accurate SAC radar system, a test was conducted in 1965 at Matagorda Proving Range, Texas, using F-100 aircraft to deliver live ordnance. Factors such as altitude, wind speed, aircraft speed, temperature, and ordnance characteristics were introduced into the computer. The pilot was given heading, altitude, and airspeed instructions as the bomb-run progressed. As the aircraft neared the point of bomb release, a countdown was initiated and a release was accomplished on the controller's "hack."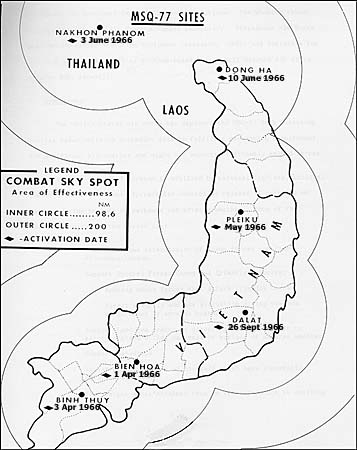 Operations
The United States Air Force has deployed the MSQ-77 Bomb Directing Central Radar units to Southeast Asia (SEA) to fulfill a continuing requirement for additional all-weather and night air support of friendly ground forces.
In SEA, the MSQ-77 system is utilized by tactical fighters, tactical bombers, and B-52 bomber aircraft for controlled release of ordnance on targets during periods of darkness and adverse weather. Some of the additional uses for the system are:
Harassment and interdiction of enemy forces and lines of communication.
Support Special Forces Camps and friendly outposts;

Bombing enemy forces that attack friendly units.
Direct resupply and air evacuation during periods of darkness or adverse weather

Support Land/Sea rescue by directing rescue aircraft to exact location during darkness or periods of adverse weather.
Support paradrops.
Assist Ground Controlled Approach (GCA) of aircraft which have inoperative airspeed systems.
Plot target areas obtained from an aircraft which is orbiting a newly discovered target. The MSQ-77 site can mark the area and direct other flights to it.
Since deployment of the MSQ-77 system to Southeast Asia, it has been in daily use. Generally the aircraft being directed are: F-100, F-4C, F-105, A-1E, A-26, B-52, and B-57. The F-100 and B-52 aircraft use the system most frequently.


Source: Combat Skyspot - CHECO Report 9 August 1967
Photo: Combat Skyspot - CHECO Report 9 August 1967

Back to Main Page


Sue Steeves' Tidy Thai site