MSgt Jeffrey K. Brochu
The original page is here:
http://limasite85.us/memorials1.htm



The COMBAT SKYSPOT memorial at Andersen AFB Guam, September, 1999.

The memorial consists of an AN/MSQ-77 (AN/TSQ-81) parabolic antenna poised at 45 degrees elevation.

It is situated directly behind the ARC LIGHT Memorial, a B52D Stratofortress which flew dozens of missions over North Vietnam.

The aircraft and the radar are facing the Vietnam theater, in solemn tribute to the men who flew the weapons and the men who directed them over targets of opportunity.

Two bronze plaques at the memorial scratch the surface of the legacy . . . .


"The introduction of the B-52 into the Vietnam war brought an incredibly devastating weapons system within the control of ground force commanders. However, the delivery accuracy was often limited by a complete lack of cultural radar returns and suitable geographic points. To solve this problem, SAC began using ground based radar equipment operated by the 1st Combat Evaluation Group (CEG) to direct aerial bombing raids. This tactic was labeled Ground Directed Bombing (GDB) and given the code name COMBAT SKYSPOT. CEG personnel would guide the bombers along a designated route and, at the proper moment, signal the aircrew to release their weapons. COMBAT SKYSPOT not only provided flexibility in targeting, but its accuracy soon surpassed that of the B-52. In fact, these GDB sites were so formidable, the enemy conducted daring raids to eliminate them or force their relocation. During their 90 month period of service in Southeast Asia, COMBAT SKYSPOT crews directed over 300,000 USAF, Navy, Marine and RVN re-supply, reconnaissance, rescue, and tactical air missions, as well as 75 percent of all B-52 strikes."
Seventy-five percent of the B-52 combat missions flown over Southeast Asia were directed from the ground by a technique code-named COMBAT SKYSPOT. Over 3000 men of the 1st Combat Evaluation Group (CEG) manned ground radar sites in South Vietnam, Thailand, and Laos 24 hours a day from March 1966 until August 1973. This memorial is dedicated to the eighteen members of CEG who gave their lives in this effort

.

WE WILL NOT FORGET
LT COL CLARENCE F. BLANTON

TSGT BRUCE E. MANSFIELD

TSGT JAMES H. CALFEE

TSGT ANTONE P. MARKS

SSGT JAMES W. DAVIS

SSGT JERRY OLD S

CMSGT RICHARD L. ETCHBERGER

SSGT DAVID S. P

RICE

TSGT PATRICK L. SHAN

NON

SSGT HENRY G. GISH

SSGT JOHN P. GUERIN

TSGT LOWELL V. SMITH

SSGT WILLIS R. HALL

TSGT DONALD K. SPRINGSTEADAH

TSGT MELVIN A. HOLLAND

SSGT EPHRAIM VASQUEZ

A1C RUFUS L. JAMES

SSGT DON F. WORLEY
The ARC LIGHT memorial at Andersen AFB Guam, September, 1999. The COMBAT SKYSPOT memorial is visible under the tail of the aircraft. This B-52D, aircraft number 55-0100, flew many Arc Light sorties culminating with the climatic Linebacker II strikes, and is symbolically pointed toward the Vietnam theater, dependent upon the guidance of a handful of highly trained and incredibly dedicated ordinary people.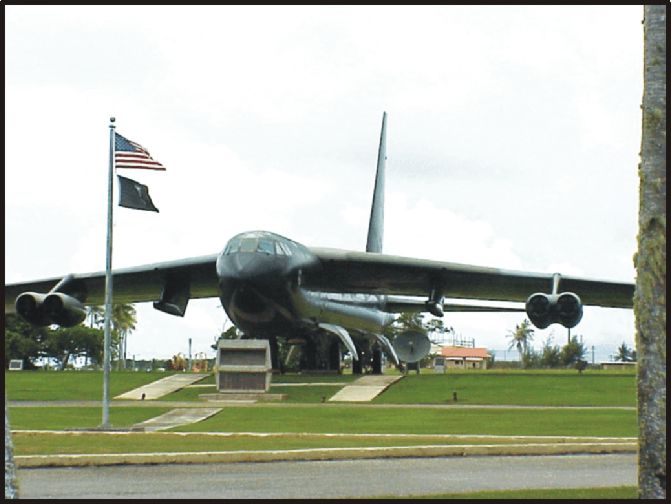 Back to Main Page


Sue Steeves' Tidy Thai site